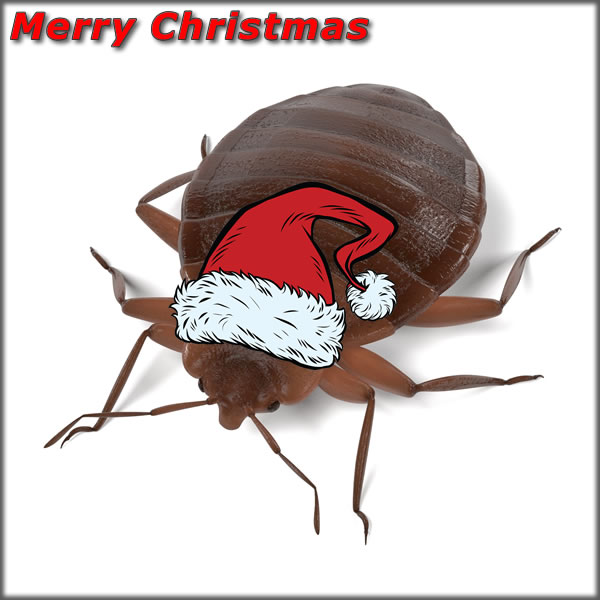 'Twas the night before Christmas, and all through the house
Tiny creatures were stirring, much worse than a mouse;
The critters were crawling 'cross floors and up walls,
In hopes that a family lay answering sleep's calls;
The children were nestled all snug in their beds,
While in-laws lay snoozing, no cares in their heads;
The presents were ready, the meals were prepped,
We were all unaware of what lurked where we slept;
Insects as small as the seed of an apple,
Leaving traces on linens, a rust-black dapple;
Away from their shelter they crept in a flash,
To find dinner within the tiniest gash;
Drawn first by our breathing, and second by heat,
They find a nice place where the air and skin meet,
And on arms, face or neck, wherever they can
They make a small cut and go straight to their plan;
A week's worth of food, in just minutes it's done,
They gorge on our blood then back home they must run,
To bed and to couch, to socket and frame,
They leave nothing but traces and surety of name:
"BED BUGS!" we shouted as each of us woke,
And gathered together, yet none of us spoke,
We saw rashes and hives and googled all morn,
And then quickly we leapt, a plan had been born!
We heated the sheets and froze what we could,
But with hours of work, it still was no good,
As the bugs had been found from housetop to floor,
Yet with Christmas Day passing, we all cried "No more!"
There were presents to open and food to enjoy,
Christmas spirit is something these bugs can't destroy,
So with hope in our hearts we turned right around,
Toward a tree decked with lights where presents abound.
Gifts from mother and dad, from daughter and son,
From aunts, uncles, cousins, we opened each one,
The best gifts by far were from jolly St. Nick,
But as daylight receded our joy vanished quick;
The bugs were still out there, just lying in wait,
A new set to feed while yesterday's mate,
A cycle set forth to drive up their numbers,
And keep us from merry sugar-plum slumbers;
And though the bites, we knew, didn't transmit disease,
The idea of rashes just made us say "Please,"
"Please send us some help to make right our bed
And give us to know we have nothing to dread;"
We spoke not a word and went straight to our work,
When "I know who to call" was said with a smirk,
The postcard was hidden among all the rest,
"The Bug Dude" we said, is clearly the best;
From nymph to adult, all the bugs would be slain,
Leaving none left to wait till again they can reign.
And with a call made for help, we said it just right,
Merry Christmas to all, and to all a good-night!
Author Bio: Alissa Breach has been gaining knowledge and experience around pest control concerns over the last 9 years while working for Mid-Cities Pest Control. She has a creative writing BFA from UW-Madison and is always pursuing new and interesting writing projects.