Thanksgiving is nearly here. That means it's time to put up some harvest decorations, get ready for a big family gathering, and start cooking. While you might argue that a Thanksgiving meal isn't complete without stuffing, a pumpkin pie, or cranberry sauce, you would almost certainly say that it's not a true Thanksgiving meal without the main dish: turkey. But even if you don't plan on eating any turkey this holiday, this indigenous bird is an absolutely iconic part of the season. Whether it's a simple turkey hand drawing or a full turkey costume to wear at this year's Turkey Trot, there is sure to be some sort of turkey imagery adorning your Thanksgiving celebration. But what do you really know about turkeys? Keep reading for the top 15 surprising turkey facts.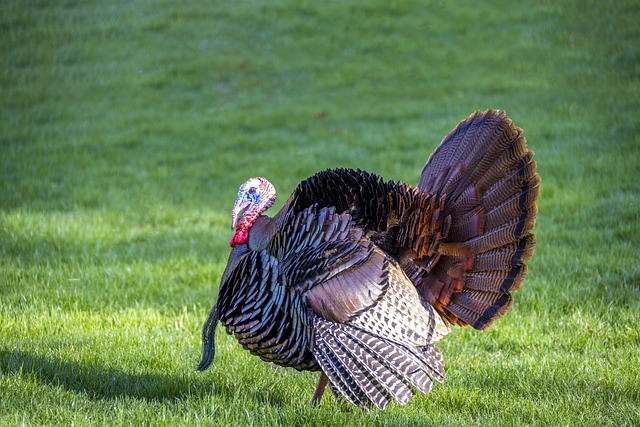 Turkeys Can Run and Fly Fast
Wild turkeys can run up to 25 miles per hour, that's 1.65 miles per hour faster than Usain Bolt's record-setting sprint! And they are even faster when they fly (and yes, wild turkeys most certainly can fly), clocking up to 55 miles per hour in short bursts. In fact, a wild turkey can travel several square miles in a day. Good luck trying to catch one of these birds for your Thanksgiving feast!
You might not expect a bird as large as a turkey to be hanging out in a tree, but that's exactly where you'll find them when it's time to sleep. When dusk hits, these big birds fly up to high branches and roost for the night, only flying down again when dawn breaks. They spend their nights in trees to protect themselves from predators, especially since they don't have very good night vision.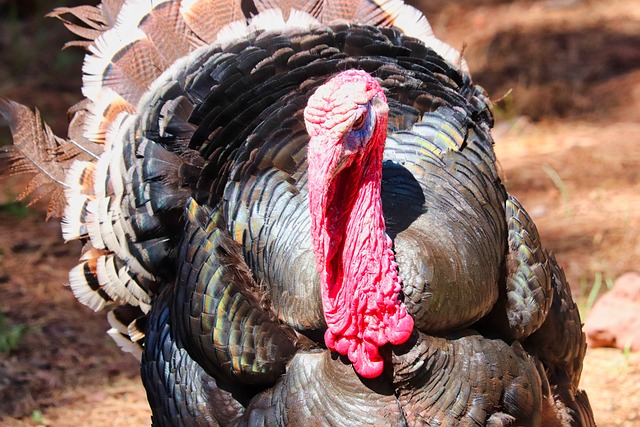 A Turkey's Head Can Change Colors
Almost like a giant mood ring, a turkey's head and neck can change colors depending on their emotions. A turkey's head is normally either pale pink or bluish gray, but when scared, anxious, excited, or sick, the coloring can change to red, white, or blue (a truly American bird!). And the more intense the color is, the stronger their emotions are.
Turkeys Have a Surprising Relative
If you look at the evolutionary chain that led to modern turkeys you might be surprised to find out that a bird we would often compare it with, the chicken, is separated from it by more than 45 million years of evolution. But that's not the biggest surprise. If you follow that chain even further back, say to around 150 million years ago, you'll find the earliest ancestors of turkeys, theropods. Theropods were a group of dinosaurs that included the T. rex, velociraptor, and Archaeopteryx.
If you were surprised that wild turkeys can fly, you might be even more surprised to find out that these large birds can swim. They achieve this feat by tucking in their wings, spreading their tails, and kicking. Using this method they can swim up to 1 mile in open water.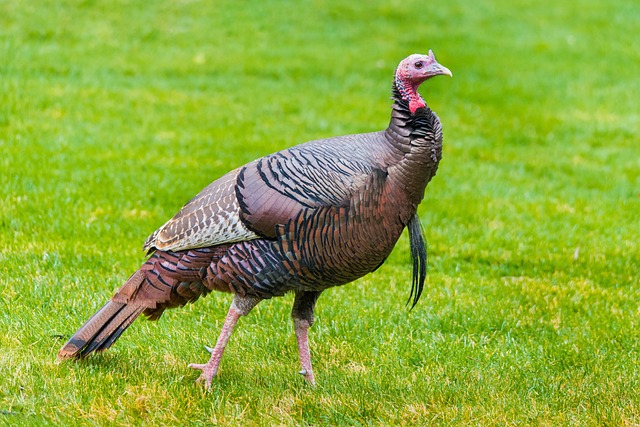 When you picture a wild turkey what do you see? You would probably note their large bodies (36 inches for females and 48 inches for males) and brown feathers first. Then you might remark on their bald head, wattle (the red skin on the chin of a turkey), and snood (the red skin that hangs over a turkey's beak). But did you know they have another distinctive characteristic? They have beards! All male turkeys have a bundle of feathers that sprouts from their chest, this is called a turkey beard, and much like human beards, it gets longer over time. Interestingly, some female turkeys also grow beards, but it's not as common.
Turkeys Have a Lot of Feathers
Not only do turkeys have between 5,000 and 6,000 feathers, their tail feathers can reach up to 15 inches long!
Turkeys Have Great Eyesight
These marvelous birds are not only faster than humans, they can see much better than we can, 3 times better in fact. Plus they can see in color, and their eyesight covers a full 270 degrees, that's 90 degrees more than us humans.
In fact, a turkey's droppings can tell you if the bird is male or female. A male has droppings that are shaped like the letter "J", whereas a female has more spiral-shaped droppings. Even stranger, you can tell the approximate age of a turkey by the size of the poop, the bigger the diameter of the dropping, the older the bird is.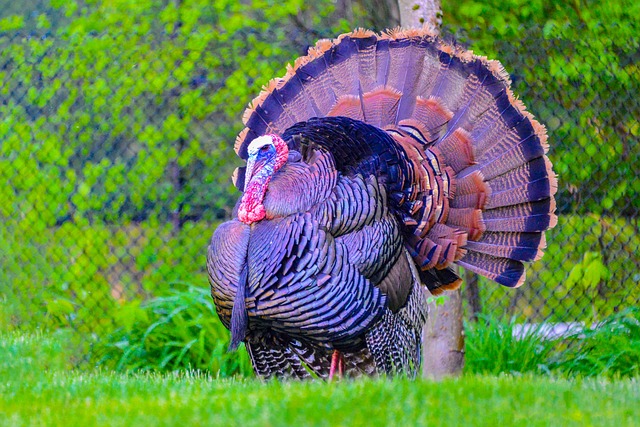 Generally speaking, male wild turkeys can weigh up to 25 lbs, with females weighing up to 12 lbs. However, the heaviest turkey on record (not a wild turkey), according to the Guinness Book of World Records, was a monumental 86 pounds!
Turkeys Have Stones in Their Stomachs
You might have heard of a turkey gizzard, especially if you have an aunt like mine who always asks for the giblets of the Thanksgiving bird. If you don't know, the giblets are the heart, gizzard, liver, and neck of the bird. But what exactly is the gizzard? The gizzard is a vital part of the turkey's digestive system; it's one of the bird's 2 stomachs and contains tiny stones (that the bird previously swallowed) that help grind the food that the turkey has eaten. Remember, turkeys don't have teeth, so they needed a different way to grind up the food they eat.
Turkeys Can Help With Pest Control
If you are lucky enough to have wild turkeys in your neighborhood, they could be providing you with some free pest control. This is not only because they consume insects as a significant portion of their diet, but also because they consume fruits, nuts, and seeds that otherwise could end up as food for mice or squirrels. In both cases, the turkeys help by reducing the populations of pests in your area and lowering the likelihood that these pests will find their way into your home.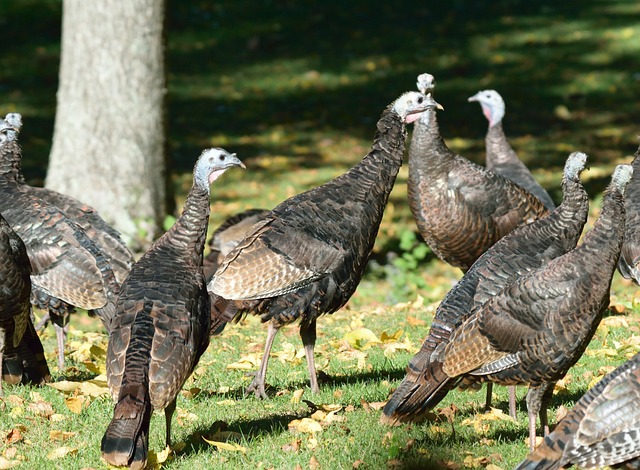 Turkeys Were Almost Extinct
During the 1800s wild turkey populations plummeted due to a combination of over-hunting and habitat loss. By the early 1900s, wild turkeys were nearly extinct, with only around 30,000 of these birds left. Fortunately, through restoration efforts, the population of these native birds has risen to 7 million. These efforts have been especially important because there are only 2 species of wild turkey in the world, one native to North America and one native to North/Central America.
A Lot of Turkeys Are Eaten Each Year For Thanksgiving
Around 46 million turkeys are consumed each Thanksgiving. With an average Thanksgiving turkey weighing 20 lbs, that means that 920 million pounds of turkey will be consumed this holiday. That's an average of 3.15 lbs of turkey per American (factoring in the National Turkey Federation's statistic that 88% of Americans consume turkey for Thanksgiving). Perhaps even more surprising is that the amount of turkey consumed on Thanksgiving is roughly 20% of the total turkey an average American will consume annually!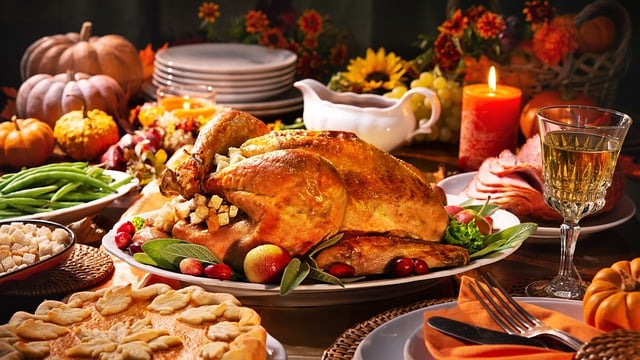 Turkeys Brought About the First TV Dinner
If you think it's difficult to manage all your Thanksgiving leftovers, imagine having 260 tons of turkey leftovers to contend with. That's what happened to Swanson in 1953 when they overestimated the turkey consumption that year. To mitigate the overage, they created single-serve Thanksgiving meals consisting of turkey, cornbread dressing, gravy, peas, and sweet potatoes and packaged them in 5,000 aluminum trays. This full meal was sold for $0.98 and was so popular that in their first full year of production, they sold 10 million of these meals, and began the enormous frozen ready meal industry.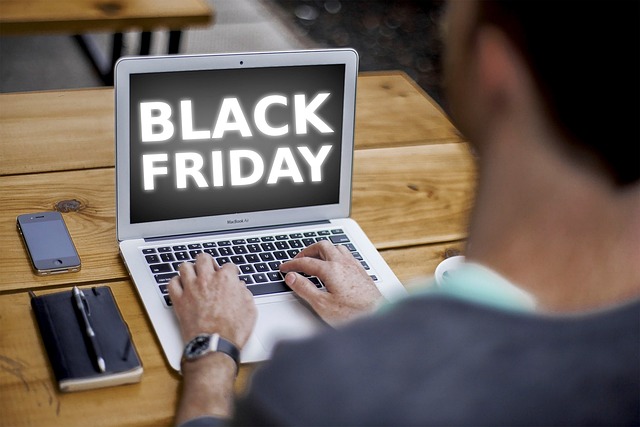 And in honor of Black Friday, here's a BOGO deal on a top list: The Top 5 Reasons You Should Call The Bug Dude at 817-354-5350 "OR" 800-310-BUGS (2847) at the First Sign of a Pest Issue:
It'll Save You Money
It'll Save You Time
It'll Give You Peace of Mind
It'll Help Keep Your Loved Ones Safe
It'll Help Keep Your Home and Yard Safe
Further Reading:
"10 Turkey Facts" – Nicole Barrantes, Animals in farming blog, World Animal Protection
"14 Fun Facts About Turkeys" – Sarah Zielinski, Smithsonian Magazine
"Wild Facts About Wild Turkeys" – Susan Morse, U.S. Fish & Wildlife Service
"10 Fun Facts About the Wild Turkey" – The Editors, Audubon Magazine
"40 Best Thanksgiving Trivia Questions to Break Out on Turkey Day" – Annie O'Sullivan and Yaa Bofah, Good Housekeeping
"Turkeys can swim-and other fun facts for Thanksgiving table talk" – Mark Strauss, National Geographic
"10 terrific turkey facts" – Jeanna Bryner, Remy Melina, and Laura Geggel, Live Science
"Wild Turkey" – Wildlife Fact Sheet, Wildlife in Connecticut, Connecticut Department of Environmental Protection: Wildlife Division
Author Bio: Alissa Breach has been gaining knowledge and experience around pest control concerns over the last 14 years while working for Mid-Cities Pest Control. She has a creative writing BA from UW-Madison and is always pursuing new and interesting writing projects.