When you think of a quintessential summer in Texas what comes to mind? The heat? The long, sunny days? Going for a swim? Or maybe, the distinctive sound of summer evenings, that particular whirring, whining, chirping sound that permeates the air? Yep, we're talking about cicadas. But what do you really know about these pests that are so indicative of summers in Texas? To find out more about the insects that are such an intrinsic part of this season, keep reading.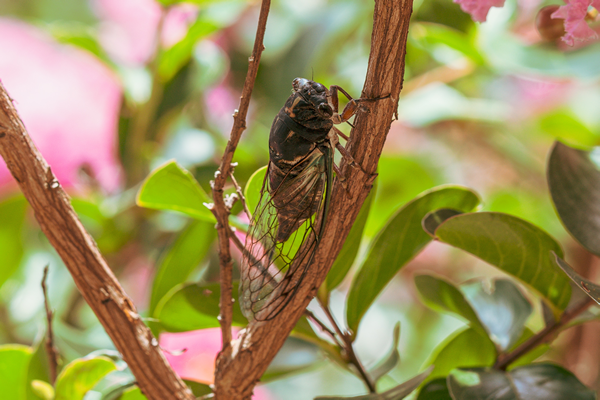 What Do Cicadas Look Like?
There are two main types of cicada: periodical and annual. Annual cicadas tend to be larger than their periodical counterparts and are around 1.625 inches long and 0.5 inches wide. Periodical cicadas are between 1 and 1.5 inches long. The exact coloring of these pests depends on their species, but they all share the following traits: stout bodies, bulging eyes, semi-transparent wings which are longer than their abdomen, short antennae, and wings which are held tent-like over their bodies. In general, annual cicadas have a combination of brown or green, black, and white markings on their bodies. Periodical cicadas tend to have black bodies, reddish eyes, and noticeable orange veins in their wings.
Cicada nymphs, the immature young of the species, look similar to adults except they are dark brown and wingless. If you've ever encountered the empty husk of a cicada stuck to your deck, house, or trees, it's the leftovers of the final stage these nymphs go through in reaching their adult form.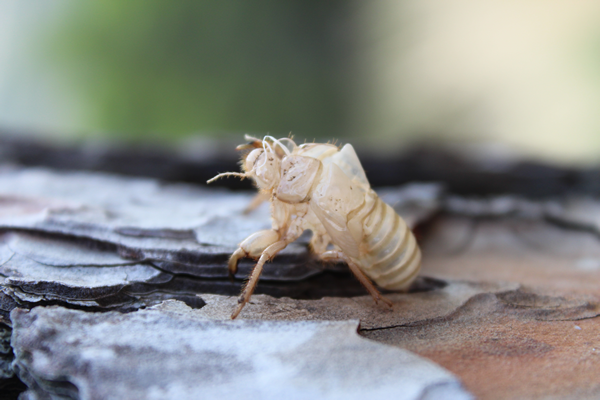 What's The Difference Between Periodical and Annual Cicadas?
In order to understand the difference between these two groups of cicadas it helps to know a bit more about their life cycle. For both types of cicadas, it all starts when female cicadas insert clusters of eggs into twigs and small branches of trees via the use of their saw-like ovipositor (egg-laying structure). After about 6 weeks, small nymph cicadas hatch from the eggs and drop from their branch to the ground. Once on the ground, they burrow into the soil and will molt through several stages underground (sometimes several feet deep). When they have reached their final nymph stage, and the weather has sufficiently warmed up, they will dig themselves out of the ground during the night, leaving a 0.5 inch hole in the ground behind them. They will then climb up nearby objects, most often tree trunks or other plants. When they have fully matured, the adult cicada will emerge from the final nymphal stage via a crack along the back of the nymphal skin and will leave the light brown empty cast skin behind (often still sticking to the tree or object it was attached to). The adults will live for about 5 to 6 weeks, during which time their energy will be primarily focused on mating.
Now here is where the big difference comes in between the two groups of this pest. Periodical cicadas (of which there are only 7 species, 1 of which occurs in Texas) only emerge as adults once every 13 or 17 years, and they do so en masse, with billions (or even trillions) of these insects suddenly being seen in their native regions. This generally happens from late April through June. Annual cicadas, however, have life cycles of 2 to 5 years, and with roughly 159 species in the U.S. and Canada (roughly 39 in Texas), that means that you are likely to see cicadas emerging every year between July and September.
Where Do Cicadas Live?
The annual varieties of these large pests can be found throughout the world, but the periodical varieties are unique to the U.S.A. and are most commonly found in the central and eastern regions, though Texas is also home to a species of 13-year periodical cicada. These insects live exclusively outside, though they are known to accidentally find their way inside homes; but once they are indoors, they won't reproduce or set up a colony. Outdoors, they are generally found on or near trees and other plants.
What Do Cicadas Eat?
Nymphal cicadas feed on sap from tree and plant roots. Adults suck juices from tender twigs and branches of woody shrubs and trees.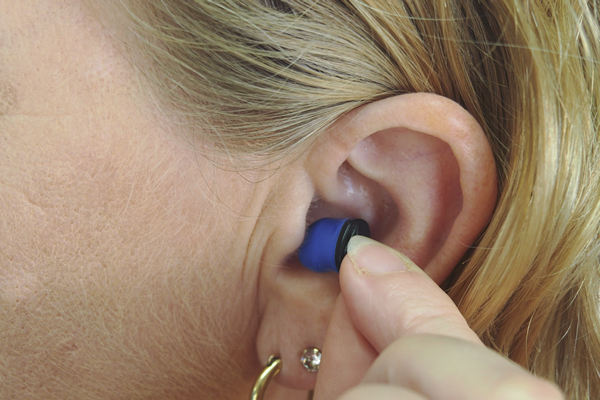 Why Are Cicadas So Loud?
The "song" of a male cicada is used primarily to attract a mate (though it can also sometimes be used as a defense mechanism). Only the males can make the distinctive whirring noise we so strongly associate with these insects. The males will rest on trees and create this sound by vibrating special structures on the side of their abdomen; this sound is then amplified by the large air sac that fills most of their abdomen. In fact, this amplification is so strong that their "song" can get up to 90 decibels, which is about the same as a lawnmower. When combined with the "songs" of the other males trying to attract mates, the noise can be quite irritating and uncomfortably loud. Interestingly, different cicada species have different "songs;" you can hear a selection of the variety here.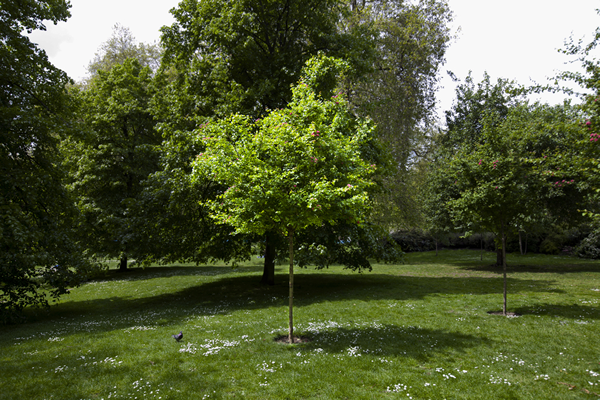 Are Cicadas Dangerous?
Generally speaking, cicadas aren't very dangerous. For humans, these insects are irritating and can be rather scary to encounter, but they can't bite or sting and don't carry disease. For pets, if they consume these insects, it could cause digestive issues or discomfort (the tough cicada wings could even lodge in your pet's throat). For property, they can potentially damage the filters for pools and hot tubs; essentially, the insects land in the water, get trapped, die, and then clog the filters, possibly burning them out. They present the most danger to trees, especially young trees, and can cause damage to these trees both when they lay their eggs in the branches and when the nymphs feed on the roots (this is more of an issue for the large populations of periodical cicadas than it is for annual cicadas).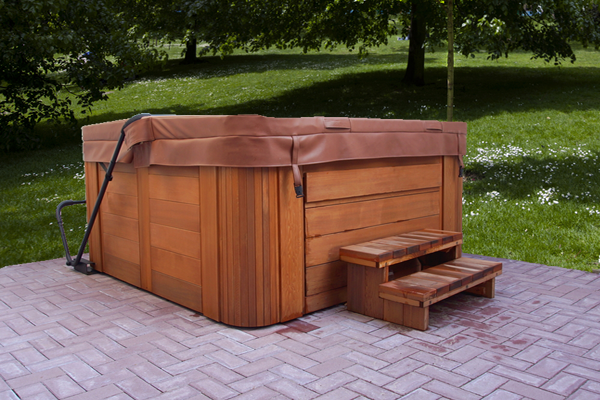 How Do You Prevent Cicadas?
There are a few main things you can do to help prevent cicadas from causing problems for you:
Keep your trees and shrubs trimmed and pruned.

By doing this, you will reduce the places for this pest to hide and make it easier for you to detect their presence and eliminate them.

Clean up any dead cicadas you find around your property.

Not only will this help you avoid the smell that can happen as they decay, but it will also help prevent further pest issues that can arise as a variety of insects descend on the carcasses for a feast.

Before the cicadas emerge from the ground, use foil barrier tape and netting on susceptible trees and plants.

These items can help block these pests from climbing up your at-risk trees or landing on at-risk plants.

Keep pools and hot tubs covered when not in use.

This will reduce the potential for filter damage from these pests.

Keep window and door screens in good condition.

This lowers the likelihood of cicadas finding their way into your home.

Cover any patio furniture located under trees.

Adult cicadas spend a lot of their time in trees, and they do their feeding up there too. So when it's time for them to emit waste, it's not a big surprise they do it in the tree as well, which means that anything under the tree could end up with cicada urine on it.

Do yard work early in the morning or late evening.

Cicadas are generally most active during the warmer parts of the day, and the vibrations and noise from yard equipment can attract cicadas to you. By using yard equipment when it's cooler out, and these insects aren't as active, you have a greatly reduced risk of being surrounded by these large, loud pests.
How Do You Eliminate Cicadas?
If you're only seeing a few cicadas around your yard and their "song" isn't ruining your summer evenings, then you probably don't have to do anything but wait for cicada season to be over. However, if you find yourself inundated with these pests flying around your yard, entering your home, leaving cast skins everywhere, and making it impossible to find any semblance of quiet, then give The Bug Dude a call at 800-310-BUGS (2847) and let our expert technicians put together a treatment plan that will help you retake your yard.
Whether this summer finds you battling cicadas or any other pest that keeps you from enjoying a peaceful evening at home, at the first sign of a problem call The Bug Dude at 817-354-5350 so we can help lower the decibel on your pest issues.
Further Reading:
"Dog-Day Cicada" – Field Guide to Common Texas Insects, Texas A&M AgriLife Extension
"Summer is here….and so are cicadas!" – Wizzie Brown, Extension Program Specialist- IPM with Texas A&M AgriLife Extension Service
"Trillions of cicadas about to emerge from underground in 15 US states" – Betsy Reed, Editor, Guardian US
"Cicadas in Texas" – Taiwo Victor, A-Z Animals
Author Bio: Alissa Breach has been gaining knowledge and experience around pest control concerns over the last 13 years while working for Mid-Cities Pest Control. She has a creative writing BA from UW-Madison and is always pursuing new and interesting writing projects.