A cool breeze stirs the air, leaves rustle and fall to the ground, joining a pile of discarded acorns, Halloween Jack-O-Lanterns have been replaced by cornucopias and turkeys adorned with crimson, russet and amber feathers, and preparations begin for family and friends to join together for a feast. Thanksgiving is almost here.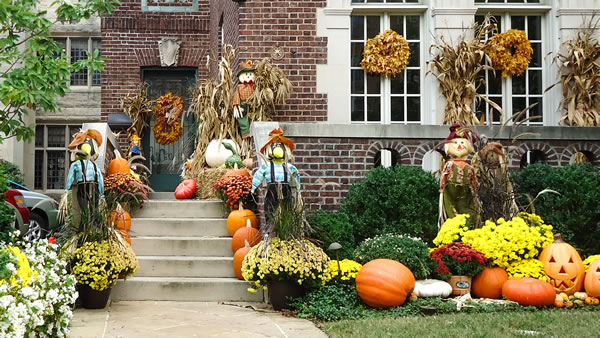 As excitement mingles with eager anticipation, recipes are decided upon, grocery lists drawn up, and houses readied for inbound guests. Everything is on track until there's a scurry in the attic late one night, a scratching in the bedroom wall, and a discovery of shredded boxes, paper, and insulation in a pile in the attic. With less than 3 weeks before Thanksgiving, rodents have arrived.
While thoughts of pumpkin pie, stuffing, and football were dancing through dreams, the rats and mice that have moved into the attic were busy foraging, building nests, and growing their population. And much as Thanksgiving is a time for family to come together, rats and mice keep their families close. This means that the nighttime attic noises are a sign that there may just be a rat pack crashing the festivities; and it's not the crooning kind.
In fact, the average brown rat can give birth to 9 offspring after just 3 weeks of gestation. If left unchecked, that means that a starting population of 2 in November can soar to 400 by Easter. And mice are still more prolific; with a similar gestation period and litter size, they reach maturity sooner, which means that they can even outpace the rats in terms of number of uninvited and unwanted guests.
All those guests will inevitably have one thing on their mind…food. And just as Thanksgiving guests are there to eat their fill, so too are the rodents. From turkey to green bean casserole to scraps tossed in the garbage, they will eat just about anything. And not only do rats have no qualms eating our leftovers (at this point they have come to see us as their primary food source), but mice are also eating machines, needing to eat 15-20 times every day.
As rodents enjoy the spoils of a season of plenty, they are using their teeth for much more than just eating. Rats and mice will chew wires, boxes, paper goods, and more in order to shred them into small enough pieces to make nests for their ever-growing population. Imagine the old photo album sitting in your attic, the wiring to your A/C unit, boxes full of beloved Christmas decorations or childhood mementos all torn asunder by dozens of tiny teeth. Even more so, they are biologically compelled to chew and gnaw as their teeth constantly grow and have to be kept in check to avert disastrous consequences for the rat. But what do they chew on to keep their teeth filed? A rat's teeth can cut through cinder block, aluminum sheeting, and lead, just to name a few. This means they will have no problem getting into any area of a home. They only need to make or find a hole about the size of a quarter to gain entry, and once inside they can jump (up to 3 feet high and 4 feet over), swim, and even climb certain walls in order to access food, warmth and nesting materials.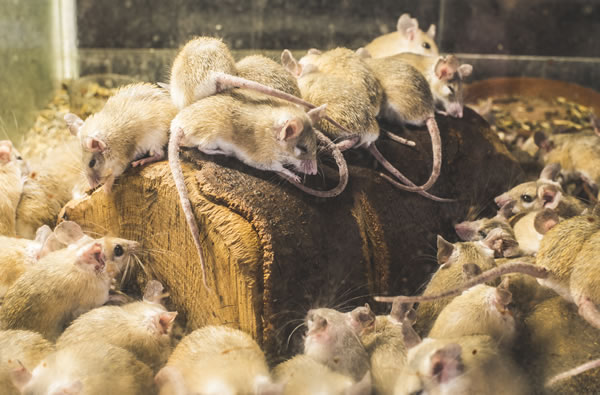 It's not uncommon to even find rodents making their homes in and around cars in a garage. The warmth from the engine is enticing as the temperature outside drops, but rats in a car can quickly lead to chewed wires and costly repairs. Though there is no way to fully prevent rodents from invading, keeping dog food or bird seed in sealed containers in the garage can help limit their initial enticement.
But rats and mice aren't the only rodents looking to make a winter nest indoors, squirrels are also preparing for winter and they are doing much more than simply burying acorns. With uncanny agility, a squirrel can climb to just about any part of a house looking for a viable entry point, and when one is found, they have more than strong enough teeth to exploit any weakness and find their way into a warm attic abounding with treasures they can turn into nesting materials. Once inside they are not only a threat to wiring, stored belongings, and insulation, they can just about drive a person crazy with the ruckus of running in and out of entry points scavenging for food.
Fortunately, squirrel populations grow slower than rats or mice, which means that getting rid of them can take less time and get you back to your pre-Thanksgiving prep rodent-free even quicker. We use a humane live animal trapping procedure like those endorsed by the Humane Society, and once the squirrel is trapped our technicians will relocate it to a new home far enough away that it cannot get back to your house.
So who's the most vulnerable to having rodent activity this season? Each home will have its own particular risk factors for nesting rodents as fall settles in and winter lies in wait. In established neighborhoods of Arlington, North Richland Hills, Hurst, Euless, Bedford, and Haltom City rodents tend to find easier access through gaps that arise as houses settle. These gaps, or entry points, will need to be sealed in order to control any rodent issues. Our technicians are experts at identifying rodent entry points and getting them fully sealed, and the Exclusion Work we do to prevent rodents from getting back through those entries is warrantied for a full year, meaning all your upcoming celebrations, from Christmas to Halloween will be worry free.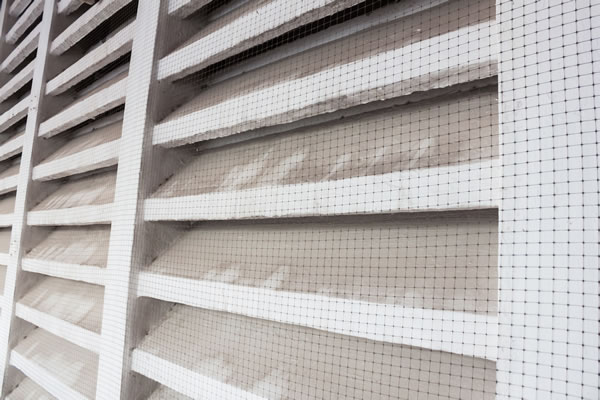 In newer neighborhoods of Frisco, McKinney, Flower Mound, Mansfield, and Allen rodents will find it more difficult to gain entry into a home, but they will be especially motivated to do so as recent construction will be pushing them from other nesting areas. And even if a rodent doesn't find easy entry, they can still make nests near homes, which puts cars, outdoor wiring, siding, and any unprotected food at risk. If left unchecked, these populations will grow and eventually make their way inside.
It may feel overwhelming to discover a rodent population has settled into your home just as Thanksgiving approaches. There may be panic at the thought of relatives hearing scurrying in walls or scampering in the attic. Disgust as trash is strewn across floors, food is found nibbled and droppings discovered in attics, closets or garages. That's exactly when you need to call a professional; our certified technicians will quickly and efficiently assess the situation and lay out a treatment plan which can give you peace of mind and free up your time to focus on the joy of family and friends gathering together to give thanks.
Additional Resources:
"The Facts About Rats" – U.S. Fish & Wildlife Service
"Squirrels" – Humane Society
"Squirrels" – Texas Parks & Wildlife
Author Bio: Alissa Breach has been gaining knowledge and experience around pest control concerns over the last 9 years while working for Mid-Cities Pest Control. She has a creative writing BFA from UW-Madison and is always pursuing new and interesting writing projects.